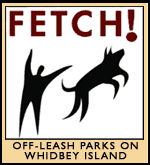 Click the buttons below to visit our parks
Double Bluff
Marguerite Brons
Patmore Pit
News Bites
Kris Letterman is our Double Bluff park steward who keeps the poop bags stocked for us. Please make sure to thank her for stepping up to do this when you see her.
Double Bluff Web Cam!
Thanks to our friends at the Double Bluff Beach Club, who let us link to their webcam, you can now check out what conditions look like at Double Bluff. Go here to see the beach.